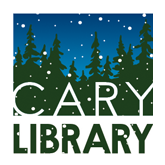 Menu
School Year Hours
9:00 AM - 5:00 PM
Summer Hours
9:00 AM - 5:00 PM
Item request has been placed!
×
Item request cannot be made.
×
Processing Request
The library has recently expanded its online resources to include O'Reilly. In addition to O'Reilly's highly recognized line of computer resources (includes early access to forthcoming titles), access titles on travel, business negotiation, financials, management, and more from nearly 200 publishers and 30,000 hours of video.