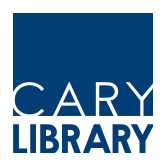 Menu
School Year Hours
9:00 AM - 9:00 PM
Summer Hours
9:00 AM - 9:00 PM
Item request has been placed!
×
Item request cannot be made.
×
Processing Request
PART-TIME LIBRARY PAGE
2 Positions Available
Cary Memorial Library has two openings for part-time (12 hours/week) Library Pages.
Library Pages assist in keeping the library's collections in good order in a busy, service-oriented environment. Tasks include, but are not limited to, shelving materials according to the library's organization system, sorting returned materials into categories, picking up books and other library materials throughout the library, and maintaining order by regular shelf reading and shelf straightening. Pages shelve books in all areas of the library, including the Children's and Teen collections, as well as the adult collections.
Qualifications: The ideal candidates will be self-motivated and detail-oriented, be able to alphabetize accurately, and be familiar with the decimal system. The position requires substantial physical activity, including standing, bending, kneeling, reaching, lifting materials, and pushing book trucks.
Schedule: 12 hours per week including one or two Saturdays a month.
Hourly Rate: $16.17 - $17.49 hourly. This position is not eligible for benefits. This is a union position.
Closing Date: September 17, 2021 at 5pm.
To apply, please send a resume, letter of application, and names of three references by 5:00pm on Friday, September 17, 2021 to Susan Lusk, Office Manager, Cary Memorial Library, 1874 Massachusetts Avenue, Lexington, MA  02420 (slusk@lexingtonma.gov). EO/AAE.