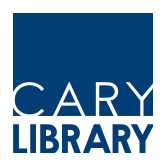 Menu
School Year Hours
9:00 AM - 9:00 PM
Summer Hours
9:00 AM - 9:00 PM
Item request has been placed!
×
Item request cannot be made.
×
Processing Request
Deputy Library Director
POSITION AVAILABLE
Cary Memorial Library is seeking a dynamic, curious, and thoughtful individual to join our team as Deputy Library Director. Are you looking for a leadership position at a library where fun is a core value and where funding and community interest allow us to take risks and dream big? Do you want to work with a staff that is talented, caring, and committed to providing great library experiences? If so, this may be your next job!
We are looking for an individual with excellent managerial skills and a demonstrated ability to work successfully in a team setting. As Deputy Director, the successful candidate for this position can expect to spend their time overseeing the day to day operation of the library. Beyond those daily responsibilities, there is opportunity to work on a wide range of projects from building renovations, to community initiatives, to the development of new programs and services. Our next Deputy Director will bring their own skills and experiences to Cary Library, and we can't wait to see where that takes us.
Like most libraries, the Cary Library is in the process of examining our collections, programs, policies, and workplace culture through a DEI lens. Our community is asking hard questions and focused on improving equity and opportunity in Lexington. Come join us and help write the next chapter in our proud history - it is an important moment to be doing this work.
Qualifications:
A minimum of five (5) years of public library experience in a progressively responsible administrative or supervisory position
A Master's degree in Library Science from an American Library Association accredited program
Proficiency in a second language is a plus
For complete position description see below
Salary Range:  $86,611 -$111,838 annually, commensurate with experience. Excellent benefits package. This is an exempt position.
Schedule: This is a full-time salaried position with a 35 hours/week M-F schedule. Candidates should expect to work some evenings and weekends to cover meetings and events.
---
Full Job Description
EMPLOYMENT OPPORTUNITY
Town of Lexington
We are currently accepting applications for the full-time position of:
Deputy Library Director
Cary Memorial Library
Anticipated Starting Salary Range:  $86, 611 - $97, 893
Full Salary Range to: $111, 838
Plus an excellent benefits package
---
GENERAL PURPOSE
The Deputy Library Director works closely with the Library Director to oversee day-to-day operations of the library, providing leadership, initiative, and strategic problem-solving for public services, personnel, technology, and facilities issues. This position works closely with the Library's Office Manager on human resources, payroll, budget, and financial processes. The Deputy Director serves on the Library's IDEAS (Inclusion, Diversity, Equity, Accessibility, and Staffing) Team, helping ensure that the library makes consistent progress on DEI related goals. This position also takes a leadership role in capital projects and strategic planning initiatives.
SUPERVISION RECEIVED
Works under the general direction of the Library Director and the Library Board of Trustees
SUPERVISION EXERCISED
Provides direct supervision for the library's Head of Technology & Training, Bibliographic Services Manager, and Webmaster
Provides general supervision to library staff at all levels
ESSENTIAL DUTIES AND RESPONSIBILITIES
Daily Operations:
Acts as Director in the Director's absence
Works extensively with the Library's Department Heads and the Office Manager to ensure that the library's services, technology, and facility are operating smoothly
Troubleshoots customer service, scheduling, and infrastructure issues as issues arise
Works with colleagues at the Town's Department of Facilities, Department of Public Works, and IT Department to maintain and improve library technology and facility infrastructure
Interacts regularly with the library's custodial staff giving direction as needed
Serves as an administrative point person for contractors working in and around the library facility and grounds
HR and Staff Development:
Oversees the library's personnel processes and procedures including hiring, onboarding, training, and resignations. Conducts exit interviews with outgoing staff
Works with the Town's Chief Equity Officer and Head of HR to ensure that the library's recruiting process uses best practices for Diversity, Equity, and Inclusion
Provides general oversight for staff scheduling, timesheet reconciliation, vacation and sick requests submitted by Department Heads and managers. Processes payroll in the absence of the Office Manager
Works with Management staff and the library's IDEAS team to plan 3 staff in-service days each year
Meets with the Staff Association's Health and Safety Team annually, or as staff concerns arise. Works with the team to update the building-wide Safety Procedures and Guidelines
Attends departmental meetings regularly to build relationships with staff and to talk with them about ongoing training and skill-building needs. Provides mentoring and coaching to library staff as needed
 IDEAS (Inclusion, Diversity, Equity, Access, Staffing) Team:
Serves on the Library's IDEAS team, working to further both internal and external DEI initiatives as outlined in the Library's IDEAS Action Plan.
Strategic, Leadership, & Financial Roles:
Member of the library's Leadership and Management Teams
Leads the development of the library's biannual action plan. Participates in ongoing strategic planning processes.
Oversees library capital projects, working closely with staff, community stakeholders, architects, and Town colleagues. Communicates regularly with all stakeholders and library patrons to ensure that these projects cause as little disruption as possible to library services
Prepares reports for Trustees, Town annual report, state reports, and other reports as requested by the Director. Attends and reports to library Trustees during regularly scheduled Trustees and Executive Board meetings
Assists the Library Director in the development, and management of Library capital and operating budgets. Responsible for the development and oversight of specific portions of the overall library budget
Approves invoices and expenditures for payment by the Office Manager
Other:
Supports and promotes the library's efforts with the Cary Memorial Library Foundation and the Friends of Cary Memorial Library. Attends Foundation and Friends meetings and events as needed
Serves as library liaison to various Town and community initiatives
Seeks out and participates in professional development opportunities. Attends state, local, and national conferences. Makes presentations on behalf of the library
Serves on the Town's Collective Bargaining Team during contract negotiations
May be responsible for collection development and maintenance for areas of the adult collection
Works on public service desks as needed
Performs other duties as assigned
SKILLS AND QUALIFICATIONS
 Necessary Knowledge, Skills, Abilities:
A strong commitment to the principles of diversity, equity, and inclusion as cornerstones of excellent library service
Knowledge of 21st Century Library best practices and programs as well as current trends in library and consumer technology
Experience in public library operations including human resource management, budgeting, and project management. Attention to detail
The ability to analyze problems, identify alternative solutions, project consequences of proposed actions, and recommend courses of action
The ability to work successfully as a team leader or a team member
Excellent oral, written, and digital communications skills. Experience preparing presentations and speaking in front of groups
Willingness to work a flexible schedule when needed
Ability to get to different locations within Lexington for meetings and programs
Experience and Qualifications:
A minimum of five (5) years of public library experience in a progressively responsible administrative or supervisory position
A Master's degree in Library Science from an American Library Association accredited program
Proficiency in a second language is a plus
 WORK ENVIRONMENT AND PHYSICAL DEMANDS
 The Cary Library has a strong commitment to Diversity, Equity, and Inclusion and we are actively seeking candidates who bring new voices and lived experiences to our organization.
The daily work of the Deputy Library Director generally includes physical activities such as moving, reaching, bending, and transporting materials and other items. Moving around the library and preparing spaces for meetings and programs is sometimes part of this role. Use of phones, computers, meeting room technology, and other types of small equipment is required for this position. Library work tends to be physical, but reasonable accommodations may be made to enable individuals with disabilities to perform the essential functions. The noise level in the work environment is moderate to noisy and there are frequent interruptions.
The duties listed in this job description are intended only as illustrations of the various types of work that will be performed. The omission of specific statements of duties does not exclude them from the position if the work is similar, related or a logical assignment to the position. The job description does not constitute an employment agreement between the employer and the employee and is subject to change by the employer as the needs of the employer and requirements of the job change.
*External and internal applicants, as well as position incumbents who become disabled as defined under the Americans With Disabilities Act, must be able to perform the essential job functions (as listed) either unaided or with the assistance of a reasonable accommodation to be determined by management on a case by case basis.
---
APPLICATION PROCESS
Send the REQUIRED Town application, resume and cover letter to Susan Lusk, Office Manager, at slusk@lexingtonma.gov.  Applications are due by the close of business on Friday, January 7, 2022.  Resumes may be attached to the application form as additional information, but cannot serve as a substitute for completing the required application form. 
The Town reserves the right to modify the application deadline, and/or accept applications after the deadline, to best serve the interest of the community.
After the deadline all applications will be reviewed and the most highly qualified candidates will be invited to one or more interviews.  All applicants will be notified of their standing in the process as soon as a decision has been made regarding their individual application.
Individuals who need accommodations in order to participate in this process should contact the Human Resources Department.