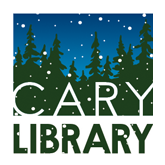 Menu
School Year Hours
9:00 AM - 5:00 PM
Summer Hours
9:00 AM - 5:00 PM
Item request has been placed!
×
Item request cannot be made.
×
Processing Request
Dear Cary Library Community,

Over the past two weeks I've heard from multiple parents who have urged me to continue the mask requirement for all individuals using the Children's Room. After conversations with our Youth Services staff, we have decided that for the time being masks will continue to be required for everyone (regardless of vaccine status) using the Lower Level of the library, including the Children's Room and the Teen Space.
While I realize that many adults have been looking forward to the easing of indoor mask restrictions, we want to do our part to ensure that our youngest patrons can visit the library safely this summer. Both adult and youth disposable masks will be available in the Children's Room for anyone who happens to need one.
Unvaccinated individuals of all ages are asked to wear a mask while inside the library. Masks will be optional for vaccinated individuals on the Main and Upper Levels of the library only.

Koren Stembridge
Library Director