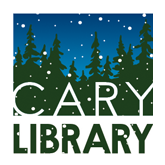 Menu
School Year Hours
9:00 AM - 5:00 PM
Summer Hours
9:00 AM - 5:00 PM
Item request has been placed!
×
Item request cannot be made.
×
Processing Request
Dear Cary Library Community,
Thank you for your continued support as we work to restore library services. The following changes will take effect on Tuesday, June 15:
Masks: 
As of June 15, fully vaccinated individuals will no longer be required to wear masks while visiting the library. Unvaccinated individuals are still expected to wear masks while in the building. We appreciate that many folks still feel more comfortable wearing masks while in public spaces - we respect your decision to do so.
Building Capacity & Time limits:
We will relax our building wide capacity limits and drop time limits for visits to the library on the Main and Mezzanine levels. We are increasing capacity and time limits in the Children's and Teen Spaces:
Children's Room capacity = 30 (increased from 20). Time limit = 60 minutes (increased from 30)
Teen Space capacity = 20 (increased from 5). Time limit = 60 minutes (increased from 30)
Seating:
We will be reintroducing seating back into library spaces on the Main Floors between June 15 and July 6. Please bear with us as we begin to put everything back in place. Seating in the Teen Room and Children's Room will be restored on a more limited basis.
Technology Services:
Desktop computers will be available in the Main Level Commons beginning June 15th
Printing and scanning will be available 
A homework computer and printer will be available for students in the Teen Space
Food and Drink:
There will be no food allowed anywhere in the library this summer
Covered beverages will be allowed in most areas of the library
Covered beverages will not be allowed in the Teen Space
Services that will NOT be available on June 15:
We will provide an update on these services in July. 
Children's play area 
Laptops and iPads 
Meeting rooms 
Study Rooms
Book Donations to Friends:
The Friends of Cary Library will be accepting donations of books and other materials beginning on June 15. There will be a blue donation bin in the South Lobby where you may leave your donations. 
Additional information regarding June 15th:
Both library entrances will be open 
Restrooms will be available on all three floors of the library 
Cary Out contactless pickup will continue with limited appointments available each day
Hours:
Tuesday 10:00-6:00
Wednesday 10:00-8:00 
Thursday 10:00-6:00
Friday 10:00-5:00
Saturday 10:00-5:00
A Note about Children's and Teen Spaces:
One of the most difficult facets of reopening has been determining which services to offer in our Children's and Teen rooms. Because children ages 11 and younger do not yet have access to a vaccine, we are approaching the reopening of our youth spaces more gradually than our adult spaces. We recognize that there will be families that want us to move forward more quickly and families that may wish we were holding back for longer. We will continue to do our best to provide services to you safely and we appreciate your understanding.
A Note to Parents:
Due to capacity limitations in both the Children's Room and the Teen Space, please be aware that children will not be allowed to remain in those spaces for more than one hour. It is not unusual for us to have many children drop by in the summer, and stay for a few hours reading or playing games. Unfortunately in order to serve the greatest number of families safely, we will not be able to accommodate multi-hour visits this summer. Thank you for helping your child understand the parameters of what we are able to offer this summer.
If you have questions or feedback, I welcome your emails at kstembridge@lexingtonma.gov. Best wishes for a wonderful summer.
Koren Stembridge
Library Director