Menu
Summer Hours
9:00 AM - 9:00 PM
School Year Hours
9:00 AM - 9:00 PM
LOW VISION PLAYING CARDS AND CARD HOLDERS
Item request has been placed!
×
Item request cannot be made.
×
Processing Request
Image: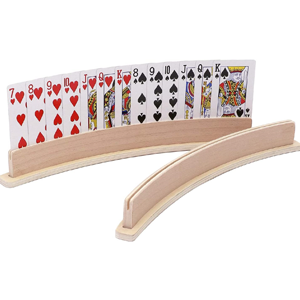 Description:
The set of four playing card holders has a curved design that helps keep your hand concealed, perfect for anyone who may find it difficult to hold a hand of cards.
Simply place each card into the playing card holder and enjoy a discreet card game.
Also included is a deck of lo-vision playing cards.
Their large print shows the suit and number in both the standard black and red suit colors and a unique color, making it easier for the visually impaired to distinguish the suits.