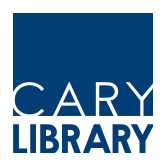 Menu
Summer Hours
9:00 AM - 9:00 PM
School Year Hours
9:00 AM - 9:00 PM
ChiRP! Project Planning and Engagement Activities
Item request has been placed!
×
Item request cannot be made.
×
Processing Request
In March of 2019, Town Meeting approved funding for a feasibility study to inform a renovation of the Library's Children's Room. Community and Staff Engagement activities began in the fall of 2019 until the COVID-19 pandemic forced us to pause our work on this project in March of 2020.
On April 7, 2022, the Cary Library Board of Trustees voted to resume this process, and to work with Johnson Roberts Associates on a preliminary design plan for the Children's Room and the Large Meeting Room. Additional community engagement will take place over the spring and summer with a preliminary design and cost estimates expected in the early fall of 2022.
The Cary Library Children's Room & Large Meeting Room Project is crucial to the library's ability to provide innovative, inclusive, and safe programs for Lexington families.
---
For additional information about the project, please read our Case Statement
---
Current and Upcoming Public Engagement Activities:
Participate in this quick survey about your family's priorities for youth services and how they may have changed over the course of the pandemic.
Answer the Question of the Week:
Beginning in June, we'll be asking a different question each week. You can post your answer to the bulletin board in the Children's Room or submit your ideas on Facebook or Instagram.
One on One Appointments - at your convenience
Sometimes it's easiest just to talk to someone! If you'd like a chance to talk privately to library staff about your ideas for the new space, or specific needs your child may have, please complete our feedback form with your contact information and we will reach out to you to find a time that works with your schedule.
Meet the Architects!
Later this summer, we'll host project architects from Johnson Roberts Associates to gather feedback about preliminary designs. Date still TBD but we will advertise this opportunity widely.
---
PREVIOUS COMMUNITY ENGAGEMENT (Pre-Pandemic)
In December of 2019 the library worked with a space planning consultant to better inform our Feasibility Study. This work included the following community engagement activities including:
Youth Services Needs Survey (parent and children's version) - February - March, 2020

Future of the Children's Room Family Idea Session -  Saturday, March 7, 2020
YOUTH SERVICES STAFF ENGAGEMENT
One of the biggest assets the Library has is its staff, and we are lucky to have an experienced and creative team that has put significant thought into this project. Our staff have spent the past three years visiting other library children's spaces, researching best practices, and asking our users what they would like to see in our updated spaces. Surveys and other opportunities to gather feedback are crucial, but the one-on-one conversations we have every day with children and families also figure heavily in our planning for this space. 
THANK YOU
Thank you for your overwhelming support of Cary Library - and thank you in advance for helping us imagine a new space that is joyful, vibrant, participatory, and inclusive.